Subscriptions & Shipments
Allocate subscriptions either by connecting a PMS integration or by adding them manually, we allow an unlimited number of properties to be added to your dashboard.
However some customers have seasonal properties or manage properties on behalf of other companies or people. For this reason the number of paid subscriptions to use YourWelcome Tablets, PropertyCare or GuestGuides features that you have may not match the number of added properties. We therefore require you to allocate your paid subscriptions to properties in order for the features to work.
This is done from the first tab in the Subscription Settings area labelled 'Allocate Subscriptions'.

If you've grouped your properties (read more about that here) your properties on this page will show in their groups. The functionality to allocate is simple, there are 3 columns next to your properties (one for Property Care subscriptions, one for YourWelcome Tablet subscriptions and the last for GuestGuide subscriptions) simply click in the selection box next to a property to show your available subscriptions:

You can then choose which of your available subscription orders to apply. You can identify orders by their naming structure which includes the initials of the person who owns that subscription order, followed by the reverse date of the subscription order (Year, Month, Day), followed by the number of properties included in the subscription. Read more about available Company Subscriptions here.
To bulk apply subscriptions you can tick the rows of each property you want to apply a subscription to. When you have selected 2 or more items the table headers controls will change to the bulk options like this: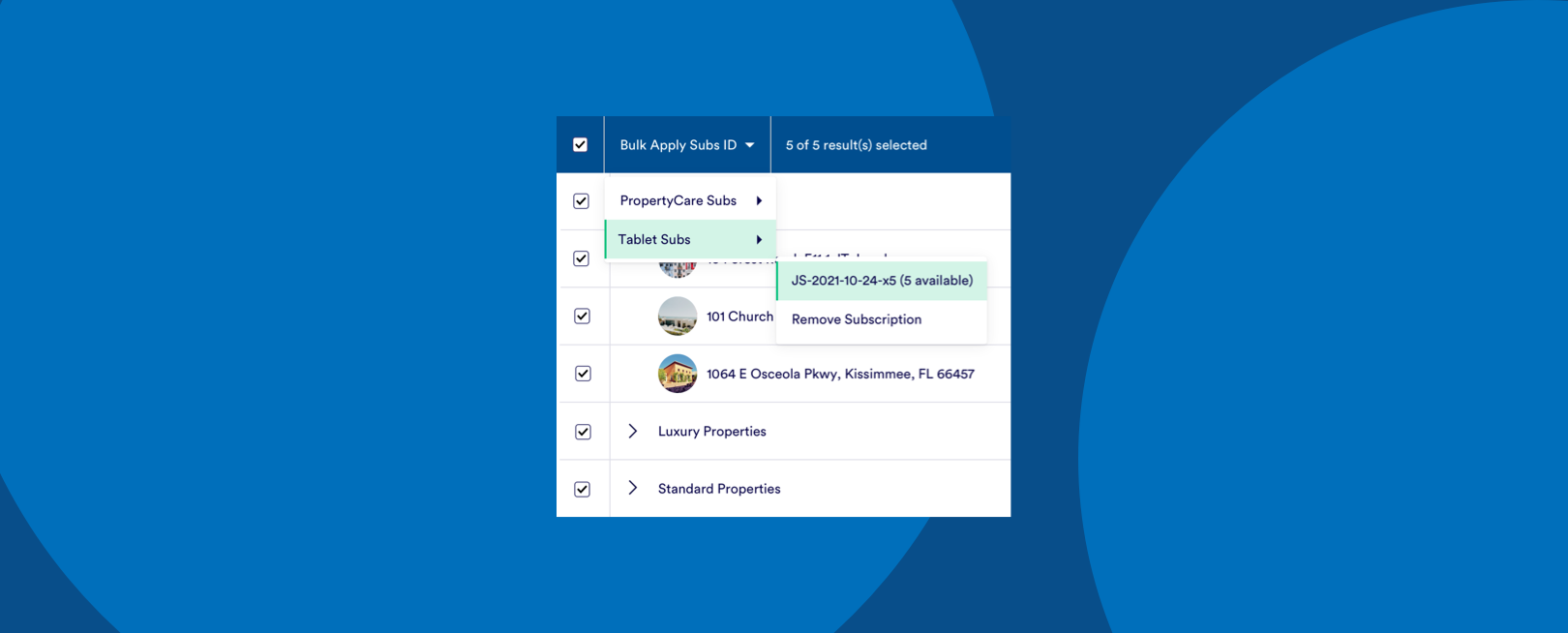 You can hover over the 'Bulk Apply Subs ID' option and then choose from the appropriate platforms to see your available subscriptions.
Note: You cannot apply more than one subscription order at a time, so for instance if you have 2 subscription orders (one containing 50 subscriptions and one containing 10 subscriptions) you must apply the 50 subscriptions before applying the 10.
You can remove a subscription using the same single or bulk methods above but selecting 'Remove Subscription' instead of allocating an available subscription.
Once a subscription has been allocated you can access the features of PropertyCare, GuestGuides or YourWelcome Tablets for that property. For clarity your properties in the 'Property' section of the dashboard are split between a table of those that have active subscriptions and those without. This can be useful if you regularly add/remove properties but may not have the appropriate number of subscriptions and thus can be a good first place to help troubleshoot issues by checking first whether the property has an active subscription.
Please be aware that if a tablet that is synced to a property which subsequently has its subscription removed, the tablet will display an error screen to your guests.
Presumably the subscription for that property was removed because it is being switched to a new property (or returned) and because the tablets cannot be synced remotely you will need to retrieve the tablet, there is an option then to select the option to sync it to the switched property on the device.
For any properties whose PropertyCare subscriptions are removed, any previously allocated tasks will be cancelled and the features for that property removed. Likewise with GuestGuides subscriptions any URLs previously shared will display an error message when clicked on.
Allocating subscriptions is a key part of the YourWelcome platform and for many customers only needs to happen once but for those companies who scale up and down their available properties this area is key to ensuring features work. For any questions about allocating subscriptions get in touch and our team can assist.
If you have any queries about Subscriptions that aren't covered in the following articles, please get in touch with your account manager or contact us using the below form and someone will be able to help.